Welcome to QT
Located on 67 Spring Street, Queenstown, QT (cutie) is a community space owned by the City of Port Adelaide Enfield. The building started life as a child care
centre
for the workers of one of the garment producing businesses that were dotted all over this area. More recently it has been used by many different groups within the community, such as the Queenstown Citizens Group that continue to run Bingo every Wednesday morning.
In September 2022, Neighbourhood took on a lease of QT in the hope to re-imagine it as a multi-use neighbourhood node that is active every day.
QT is supported by volunteer staff from Monday to Friday, but is accessible for Neighbourhood Members to use between 6am and 10pm every day. It is a place where you can work, talk, plan and learn – on your own or together. Whilst the building is mainly one big space, the different parts can be used simultaneously for different purposes:
the co-working desks in the Work Hub are available for hire on a casual or regular basis
the Studio has tables and chairs that can be set up (or not) however you need for meetings, workshops and activities
the Canteen is a meeting area close to the kitchen and coffee/tea station for small informal meetings and gatherings
the Neighbourhood Garden is a work in progress by and for neighbours, with the view of becoming a garden and neighbourhood nursery for people to use, enjoy, learn and grow together
the Veranda has a 5m long table with benches perfect for informal gatherings and conversations
the Kitchen and Break-out Room are not yet available for use, but will be in the near future.
In true community spirit, the different elements of the QT building will be used by different individuals/groups at the same time, encouraging conversations, collaboration and exchange between them.
QT will be accessible for use by Neighbourhood Members free of charge for community purposes, and at affordable rates for neighbours that want to use part of the space for commercial purposes such as co-working, offering paid classes/workshops or baking goods to sell. There will be free and low-cost Neighbourhood activities happening at QT – such as gardening sessions, Advance Care Directive workshops, entrepreneurial programs and an intergenerational dinner club. To see what activities are coming up at QT, have a look at our Neighbourhood Calendar.
For more information about QT space bookings and co-working subscription, head over here.
The QT Work Hub is a co-working space unlike any other. It's based in the neighbourhood, for those who work and play out of town during normal business hours. It's for those of us that want to get out of our own house while working from home, that need access to fast internet and printing, who would rather have a face-to-face chat than scroll on our phones during our coffee break, or who are tired of being alone while working on a project. Whether you are self-employed, work from home, study, or would just like to be in a work-like environment to do your thing – the QT Work Hub might be just the place for you!
QT Work Hub offers flexible desk space, fast internet, lockers for your valuables, free printing and great coffee and tea.
Work Hub desks are available for hire to Neighbourhood Members, with the option of casual hire or a monthly Work Hub subscription that gives you the option to book a desk whenever you need one. To receive more information about Work Hub desk hire, send us an email at
hello@neighbourhoodnode.com.au
.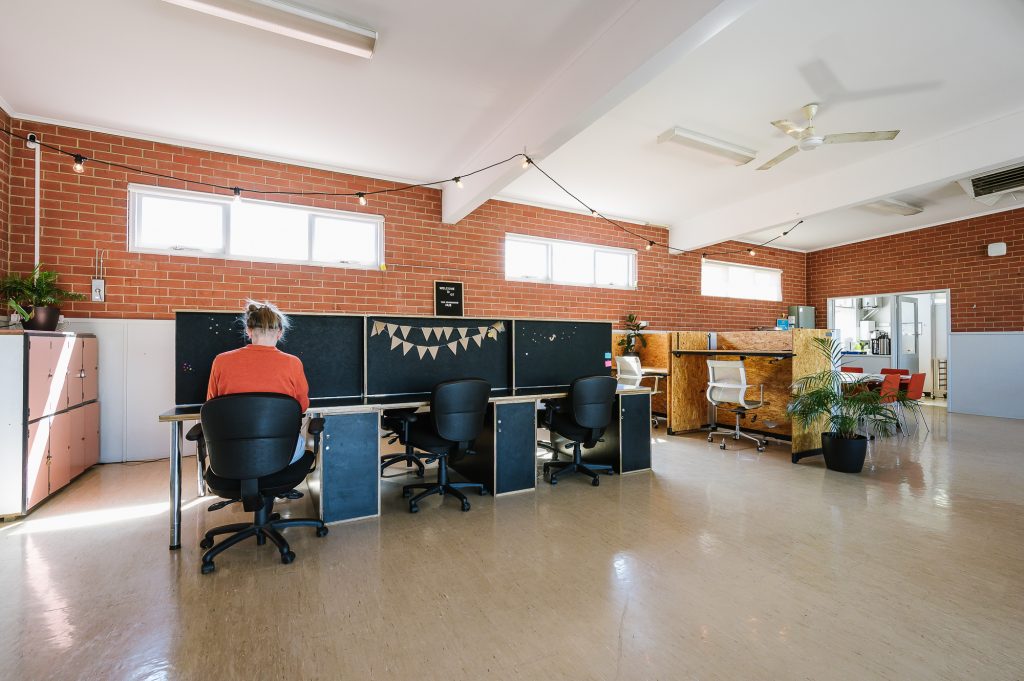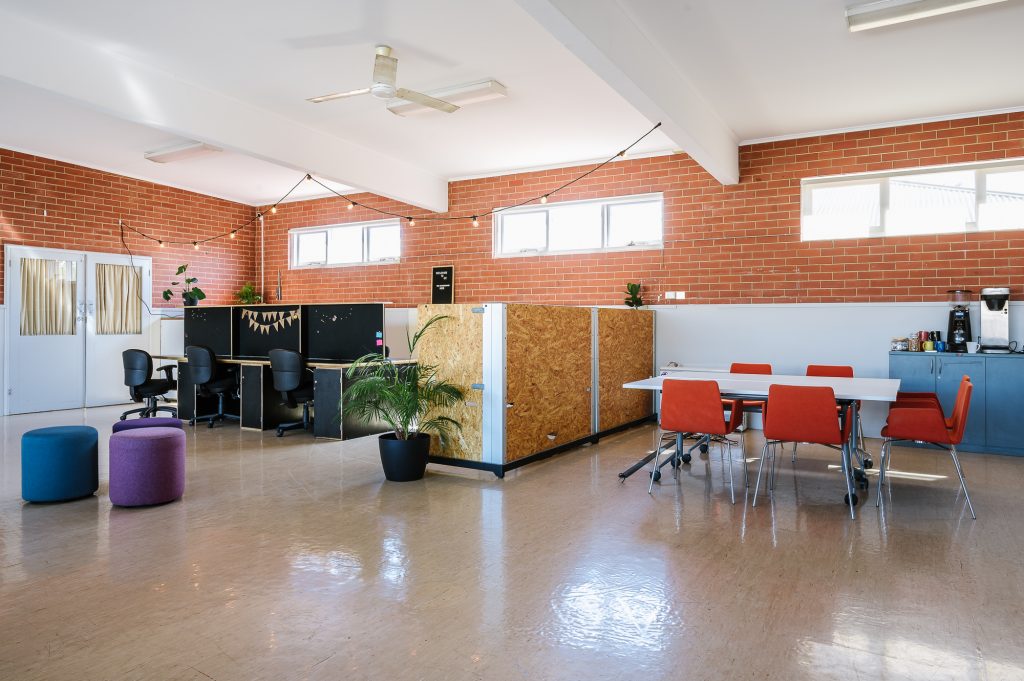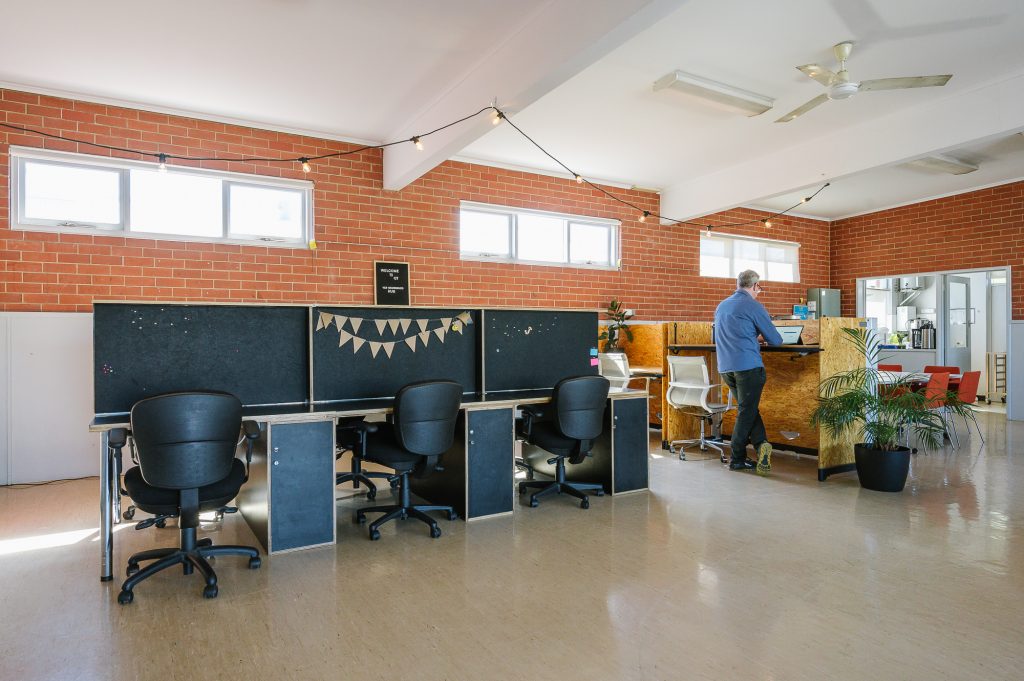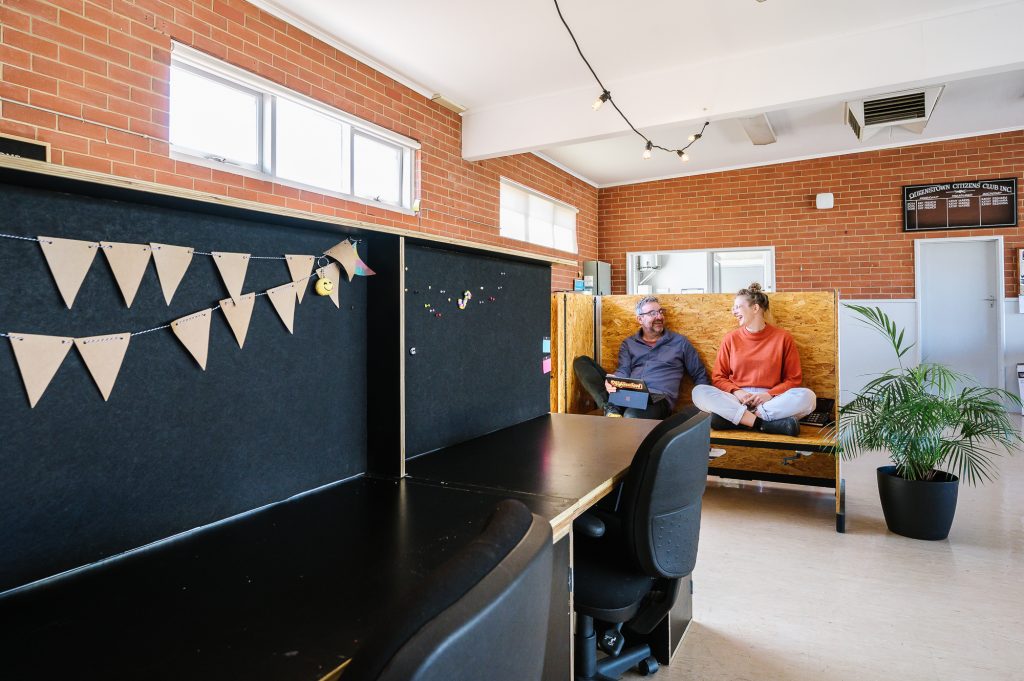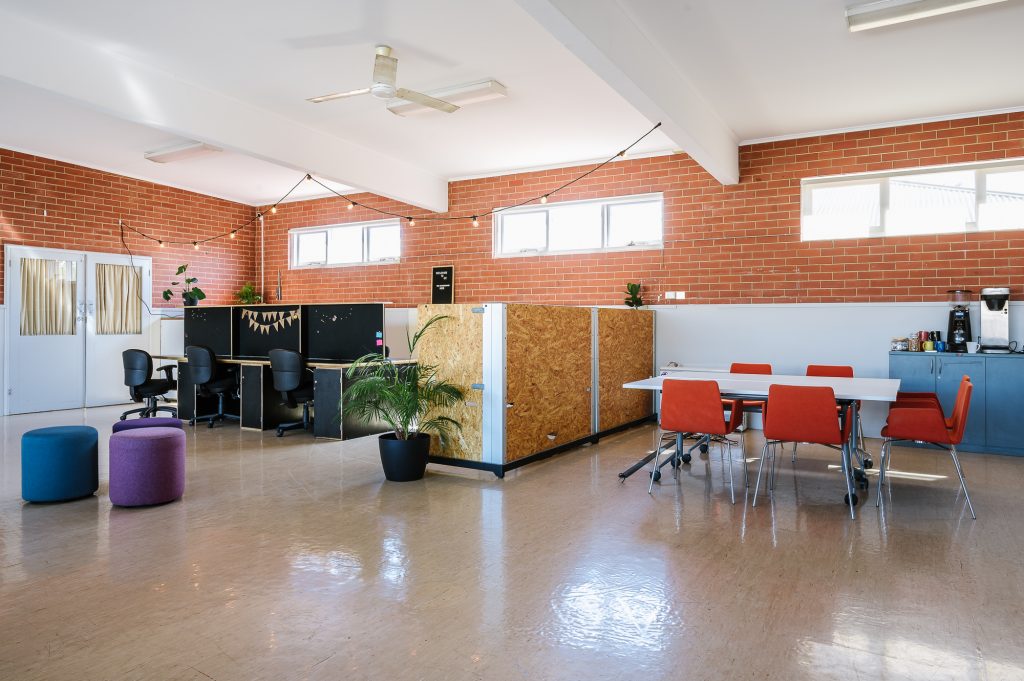 We call the largest part of QT 'the Studio', an open space that can be set up however is needed for meetings, workshops and activities. The Studio is available to book for Neighbourhood Members, with sliding scale fees from free to $50 an hour depending on what you want to use it for. The space is perfect for community meetings, project planning sessions and activities/workshops that are open to others in the neighbourhood. However, because QT is a multi-use space, the Studio does not lend itself for (children's) parties and private gatherings.
Available for use in the Studio are tables and up to 50 chairs, Bluetooth speakers, a whiteboard, a tv screen and a short-throw projector.
In between the Work Hub and the Kitchen, the QT Canteen is the perfect place for a small gathering or quick meeting with up to 8 people. Because other QT users will be making use of the coffee and tea station adjacent to the Canteen, this area is not suitable for workshops.
The Canteen offers tables and chairs for up to 8 people, proximity to coffee and tea (during normal opening hours), fast internet and free printing. 
Currently the Canteen can not be booked through our booking system.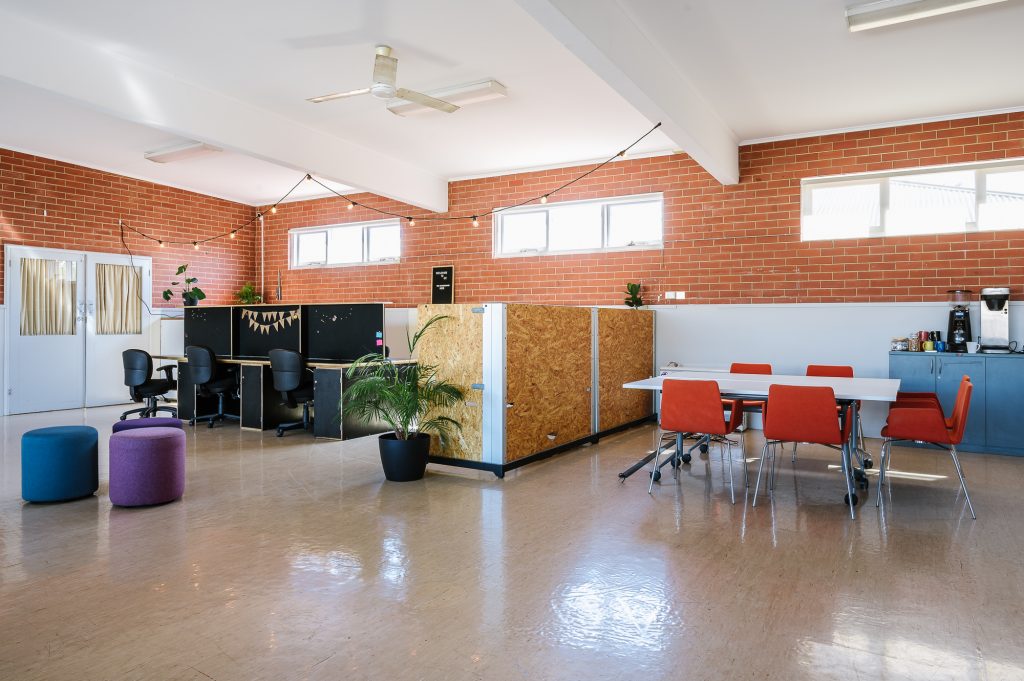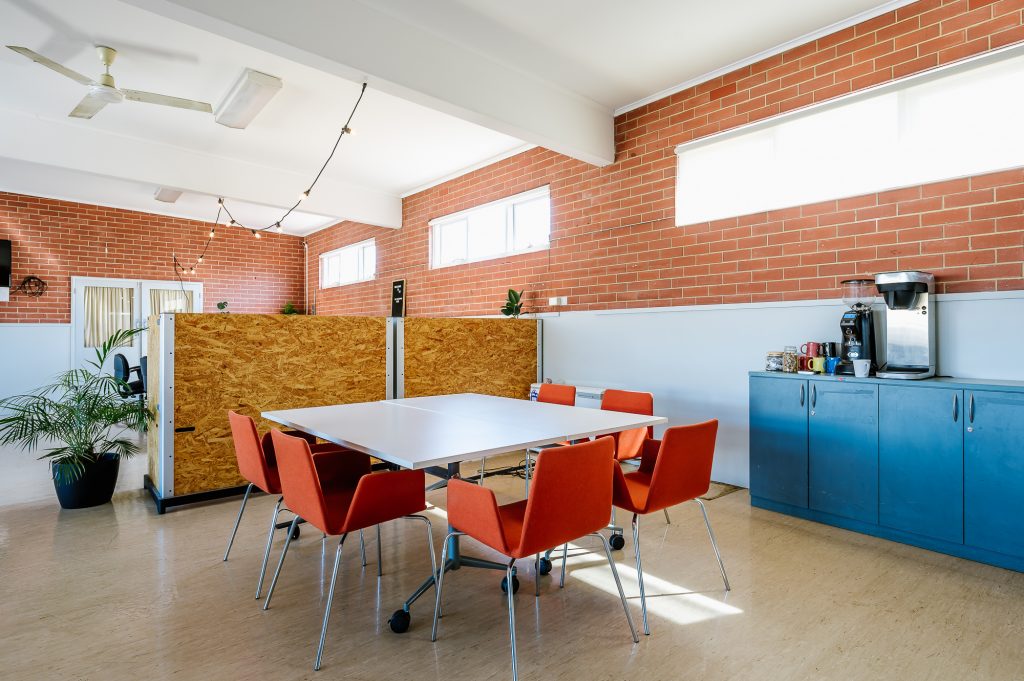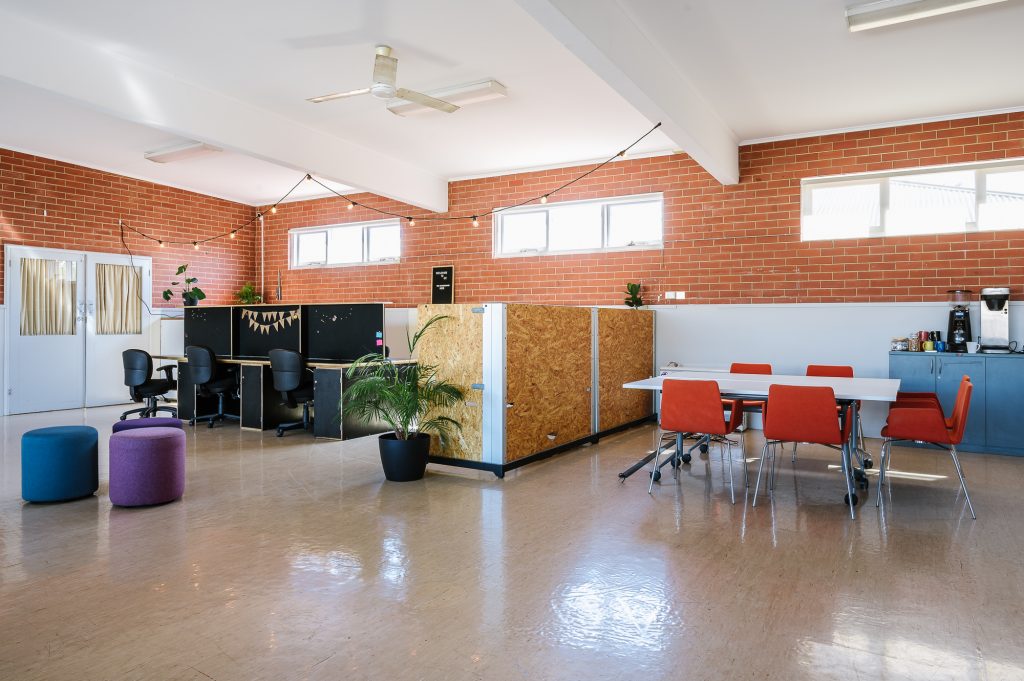 The Space, also lovingly known as 'the Back Room', is a casual, private project room set up to create the perfect environment to get your creative juices flowing or have a more informal, intimate meeting or conversation.
Available for use in the Space are a tv screen, a short-throw projector, boardgames, couches and chairs. There is also a moveable whiteboard which can be used flexibly for brainstorming and presenting. Use of the the Space comes with our usual free coffee and tea, fast internet and free printing.
To use the Space, please email hello@neighbourhoodnode.com.au
Industrial Kitchen & Bakery
Do you bake extravagant cakes or make a killer soup, but don't have anyone to share it with? You might consider coming to the QT Industrial Kitchen to make your signature dishes to share with others – either by selling them to The Pear or sharing/selling them by yourself. The kitchen at QT is in the process of being approved as a commercial kitchen, and can be used by Neighbourhood Members to bake, cook and create food for selling and sharing.
If you would like to use the kitchen for commercial purposes, or if you are interested in the idea of becoming a 'Baker in Residence' that bakes to supply treats for The Pear or community events, get in touch with us to discuss your ideas!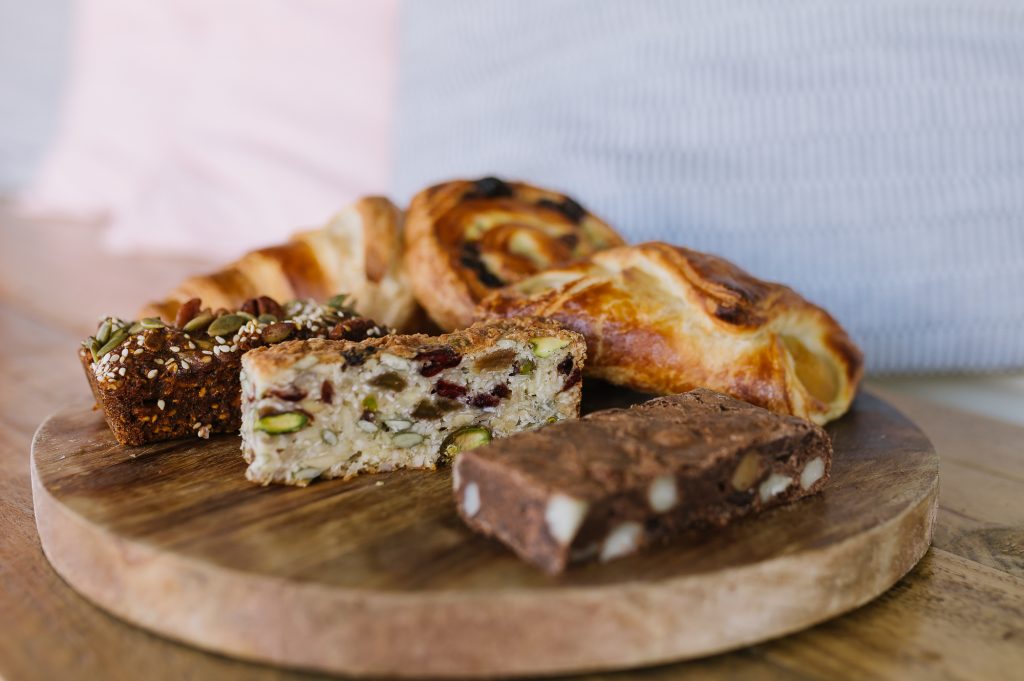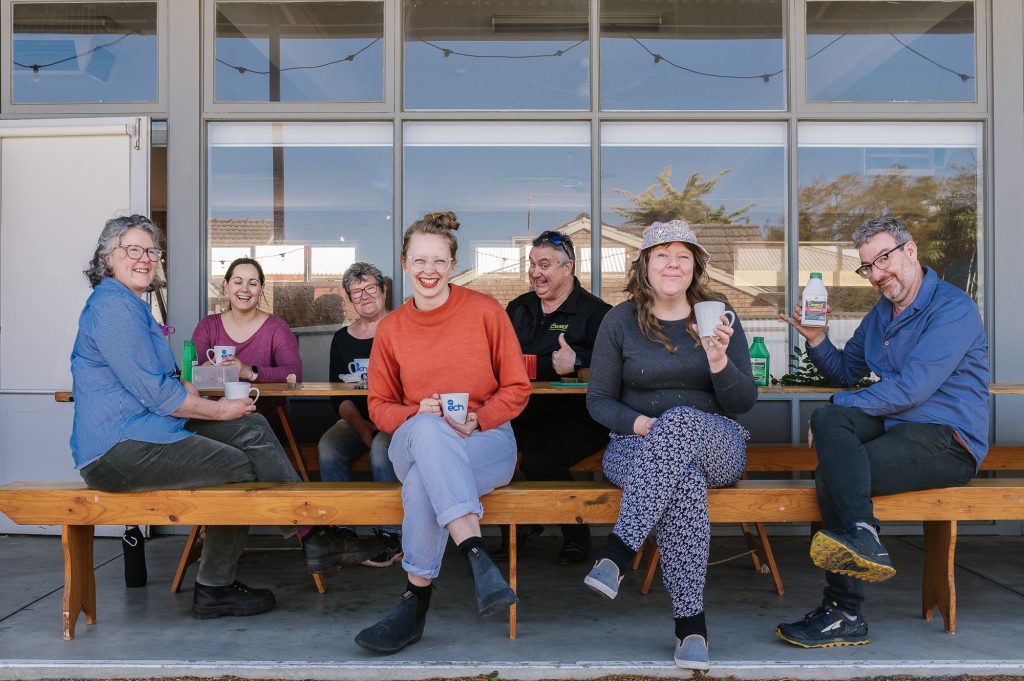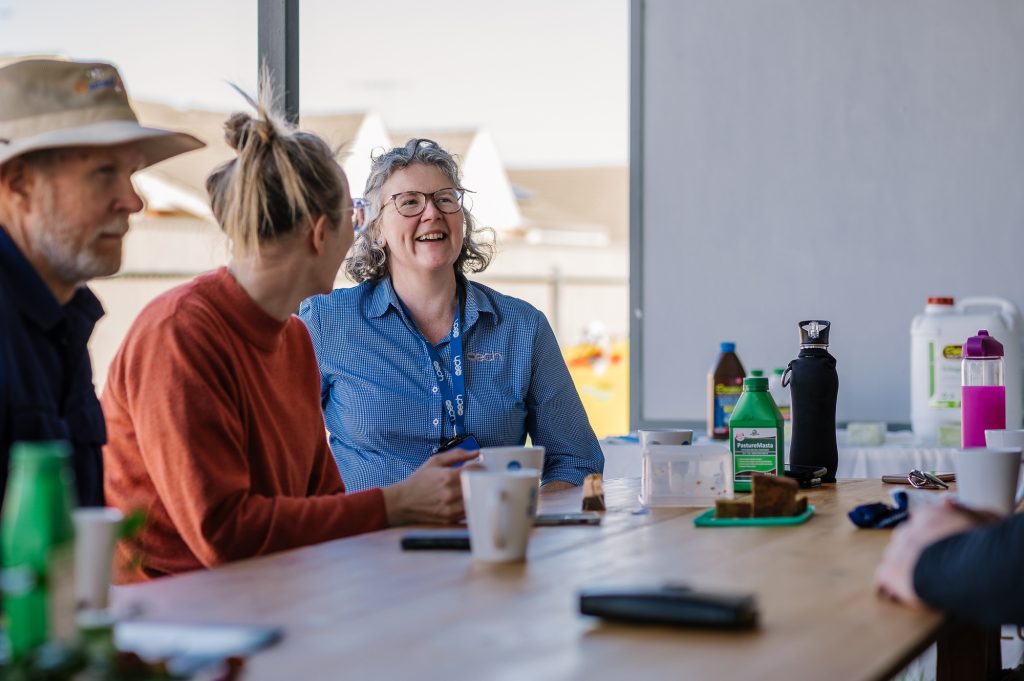 Out the front of QT is a lovely covered outdoor area that is home to a 5m long table and two benches that easily fits 15 people comfortably. Perfect for informal gatherings and community activities, as being outside means you might get some neighbours say hello on their walk around the block!
Available for use under the Veranda are the 5m long table and two benches, additional chairs from inside if needed, a pinboard, outdoor festoon lighting for early evening meetings, and a short-throw projector.
The veranda is not yet available for bookings, but if you would like to use it please reach out to us.
Out the back of the QT building is a large plot of vacant land that is slowly being turned into a community garden by an active group of neighbours. Since July 2022, they have put in wicking beds, planted native plants, built a herb garden, put pomegranate and fig trees in the ground, sown sunflower seeds and planted edible flowers and rosemary bushes. What's next for the garden is an ongoing conversation with everyone involved.
If you have a green thumb or would like to learn about gardening, growing food, and how our neighbourhood could become more climate-resilient, you are very welcome to come along to the Neighbourhood Garden meetings. Anyone is welcome to join at any time, with or without experience.
What does it cost to use QT?
Meetings, presentations & workshops
As a community venue, the Studio at QT can be used by Neighbourhood Members for free for community meetings, presentations and workshops. 
The two conditions for Neighbourhood Members using the Studio for free are:
You do not charge people to attend your meeting or workshop (a donation towards catering is fine)
Workshops, meetings and presentations that are accessible to the public will be included on our Neighbourhood Calendar
If you would like to use the QT Studio space for a commercial purpose (for example, if you want to charge people for a workshop or you want to run a meeting for your business), we charge the same hourly rate that the City of Port Adelaide Enfield charges for their community hall hire ($25/hr). We have sliding scale discount rates for community groups, religious groups and not-for-profits.
If you are unsure what rate will apply to your group or if your group or organisation can't afford the applicable rate, contact us for a face-to-face chat and we will work it out together.
Co-working Desks
Co-working subscription
Neighbourhood Members can register for a monthly co-working subscription, which gives access to one of eight co-working desks, free coffee and tea during QT opening hours, free lockers for bag storage and free printing and copying. It also includes free out-of-hours desk access, which requires the one-off purchase of an access key. The co-working subscription is a great option for people who are planning to make use of a co-working desk at least once a week or on a regular basis. 
Casual desk hire
Co-working desks are also available for casual hire at a rate of $40 per day for a normal desk, and $60 per day for a focus desk. QT co-working desks can only be pre-booked a week in advance and for a minimum of 4 hours. The rate remains the same regardless of how many hours you book.
Drop-in desk hire
Subject to availability on the day a desk can be used during QT opening hours for an hour or two at a casual rate of $10/hr. To use a desk for less than 4 hours you will need to ring QT on the day at 7084 2450 to check if there are any desks free, and pay by card on arrival.
QT space bookings can be accessed through SpaceToCo. 
SpaceToCo is specifically designed for community venues, and is widely used by local Councils and community organisations across Australia and New Zealand. If you have previously booked a space with the City of Charles Sturt, Prospect or Tea Tree Gully, you may already have a SpaceToCo account.
Casual Hire 
To book any of the spaces in SpaceToCo, you will need to register for an account here. If you already have one, you can use your existing account to access QT Neighbourhood Node bookings.
Once you have a SpaceToCo account, you can access casual Studio bookings by following this link.
If you qualify for the discounted casual hire rates, please contact us before making your booking at hello@neighbourhoodnode.com.au
Co-Working Subscription & Regular Hire
If you would like to use the QT Studio for free as a Neighbourhood Member, to sign up for a Co-Working Subscription, or to enquire about the possibility of regular space hire, please reach out to us and we will have a chat. 
Currently owned by the City of Port Adelaide Enfield, QT is being leased and managed as a community space since September 2022 by the team behind the neighbourhood activities at The Pear: Joost, Annemijn and Freeda. During the week, QT is staffed by a team of Neighbourhood volunteers that host, coordinate the kitchen, support the Neighbourhood Garden and run community activities.
QT is supported by the South Australian Government for Ageing Well, the Australian Government Department for Social Services and ECH Inc. 
QT is a multi-use community space that is open to anyone from our neighbourhoods that want to work, plan, meet, study, garden and do things. It is an experimental space that brings together co-working opportunities, community development, space hire, entrepreneurial programs, services and activities under the one roof.
If you are looking for a place to do your own work or study, to meet with others to work on a project, or want to be part of activities with other people from your neighbourhood – QT is the place for you. 
The plan to turn QT into a multi-use community space came from the observation that the Queenstown Community Hall was not being used to its full potential, and a realisation that for many people around our neighbourhoods there is no venue close-by that is free/affordable and accessible for work, study or meetings. 
QT's main objective is to create opportunities for increased connection and neighbourliness by supporting people to work and learn together.